The ultimate way to celebrate your car
Hand crafted by Ruben Groeneveld, exclusively for you, to showcase your ride exactly the way you love it. You're personally part of the creative process; countless layers, countless hours, capturing every single detail of your car. The result: a one-off piece of art to celebrate what you and your car are all about.
A RUNOFF ORIGINAL — IN SHORT
YOUR CAR, WE'D LIKE TO GET TO KNOW IT
Your car is special, unique and unlike any other. Because of your stories, the experiences you've had with it, the differentiating details it has. You love looking at it, driving it, cherishing it, enjoying it. We understand, because we're petrolheads like you. 
We're here to really get to know your car, so we can capture it in one-off personalised handmade art for you to celebrate your car in a new, exclusive way. And we share the journey of getting to know and capturing your car with like minded people, to show them your car is unlike any other.
WE REALLY GET TO KNOW YOUR CAR:
I've been drawing cars for as long as I can remember. When I was a little boy, I was always doodling, sketching, crafting; being creative. When I was 15 years old, I bought my first set of markers. It got me into drawing cars as realistic as possible – the best 50 euros I ever spent.
…the average Instagrammer doesn't really care about them. They drive them, share them, but it's all just to show off. Nobody really sees what makes cars special anymore. And the way they get captured is pretty superficial; they all just take and repost the same pictures of the same cars. 
This has got some implications:
They don't really care about your car, all they see is 'just another Porsche'. No one sees why you enjoy it so much or what's special about it.
The stories behind your car are left unnoticed. Your experiences with your car and the backgrounds behind it are what make it special, but it doesn't really get captured.
Visual content of cars like yours is made to be more efficient, easier to create, and appealing to the masses. All they want is as many likes as possible.
It's just so nice to work with people who aren't just good at what they do, but also passionate about what they do!
Justin from the United States
About the artwork of his Keen Project Porsche 911
I had been following Runoff Studio for a while before I reached out about my artwork. After all, my ride is pretty different from your usual 911. Once I did reach out though, we went through the possibilities of how we could capture my car; and I couldn't be happier with the process or the result. It just came out awesome!
I'm very impressed with it, and not just the car! Even though the artwork is completely focused on the car, the movement it portrays is spot on, and even the background – which is not an unimportant part of it – puts it into perfect perspective. I know exactly the moment and location the drawing represents, I could go sit in that spot just based on the background. And that's not even the main focus of the artwork, which goes to show the level of detail Ruben's working with.
That's to say the level of realism is impressive. You know, when you look at something online, you have to think to yourself "okay, well, that was touched up to make it look better", but Ruben's drawing really does look like a photograph. People often don't realize it's a drawing until they're up and close to the artwork. I would imagine that is incredibly hard to pull off, but Ruben pulls it off beautifully!
So, I think, whether it's your vehicle or a parent's vehicle – or just someone you care about – it's a great opportunity to memorialize your vision of that vehicle forever. The Runoff Studio team is very passionate, and not just about art, but also about the vehicles they engage with. It's just so nice to work with people who aren't just good at what they do, but also passionate about what they do!
AREN'T YOU JUST ANOTHER GUY RECREATING PICTURES OF CARS?
Not really. We're doing things differently:
If you made it this far, you're probably an enthusiast who believes that cars are more than status symbols or something to take you from A to B. Through the cars we've drawn from like minded people over the world, we found enthusiasts like you to be the most inspiring. Your stories about your car, its history and background, the people surrounding it, your experiences with it; that's the ultimate inspiration for our art.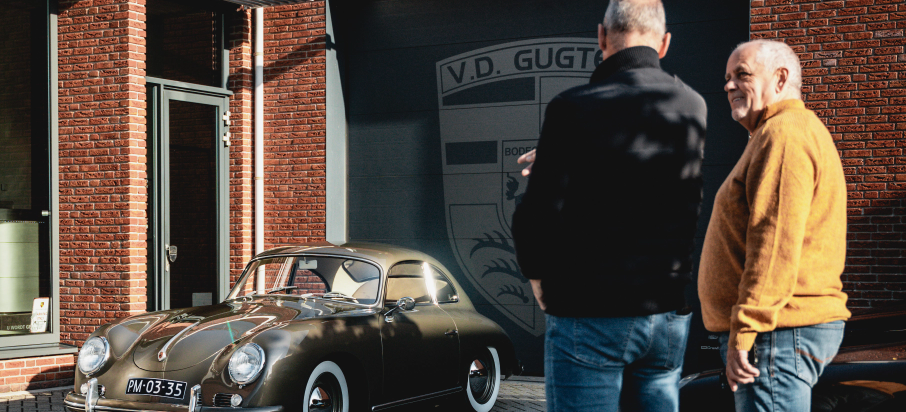 We want to know everything about these stories that make your car special and unlike any other car out there. It's our goal to understand the ways you enjoy your car and the reasons why you love your car, so we can turn that into a mantelpiece artwork that captures your little personal part of the car culture in the best way possible.
You're personally part of the art creation process to capture your car exactly the way you want it to be captured. From your favourite angle of your car to the custom background that resonates with the way you enjoy your car. We're taking you along each step we take, using your insights to guide the art direction. The making of your artwork is a co-creation process.
CELEBRATING YOUR CAR WITH LIKE MINDED PEOPLE
We document the complete process of creating your artwork in notes, images and videos. We do this to help you celebrate your car in a new way, but you're not the only one who's part of the journey. We're also taking along like minded enthusiasts from the car culture, so they can be part of our celebration and enjoy and appreciate your car and its background as much as you do.
But don't take it from us:
The artwork that I have is the pinnacle of my passion, memories and friendship moments
Pedro from The Netherlands
About the artwork of his Porsche 718 Cayman
Being able to get and enjoy my Porsche Cayman was a big milestone for me. I've had great memories with the car, experiences, friends being there with me; but I was not sure about how I wanted to extrapolate the passion that I had. Let alone the emotion I felt back then with my car.
I thought about framing a picture, or even buying a miniature replica; but that, to me, didn't have much meaning. I wanted something a bit more special, something with a process. This is when I stumbled on Runoff Studio's take on the RUF Yellowbird and the then-new Bugatti Chiron, and I immediately thought "this is it – this is exactly what I want!"
The process to start with that was fantastic. Before anything was drawn, we discussed what my favorite angle of the car was, what was my favorite memory of the car and a picture or a reference that reminds me of the car. To me, the artwork that I have now represents not only a passion that I have, but also a job I had, my experiences from that time and probably the most memorable friendship moments I have all in one artwork.
So that's what my artwork is to me: the pinnacle of all of these things combined. And well, to be honest, I look at it every day! And it's kind of one of my main inspirations too – you know – to add another memory in the box of good moments. So yeah, it's perfect!
THE CREATIVE PROCESS OF CAPTURING YOUR CAR
GETTING TO KNOW EACH OTHER
We collect all the insights we can get about your background and experiences with your car, which will provide the inspiration we need to capture your car the way it resonates with you.
We use our gained insights to conceptualise possible art directions. Together with you, we will find the best angle, background and overall composition to capture your car.
A definitive composition sketch will paint a crystal clear picture of what your personal artwork is going to look like, before we put a stroke to paper.
A pencil sketch brings our vision of how to capture you car to paper. Drawn freehand, with a few measurement checks to make sure the proportions of your car are perfect.
The base layer of color starts with alcoholic based markers. They're great to fill large areas, and they help in making colors transition as smoothly as they do in real life.
Countless marker and pencil layers are added to refine the color of your car. Depth is created, hues are getting fine-tuned; it's starting to look realistic now!
Fineliners for the smallest details and white gel pens for the brightest highlights provide the final touches to make your car truly come to life.
Countless layers and hours later, the artwork is finished! Ruben signs the work, has it framed for you if you like, and it's ready to make its way to you!
CURIOUS ABOUT WHAT THIS PROCESS LOOKS LIKE IN PRACTICE?
Ruben guided me through taking some proper reference pictures of my car to pick my favorite angle
Buzz from the United States
About the artwork of his Porsche 911 Carrera S
Working with Ruben was easy. I first saw his work on a Porsche 911 Facebook page. I felt I had a world class car, and she deserved a portrait.
Ruben guided me through taking some proper reference pictures of my car to pick my favorite angle, and we chose one together. He even sketched a couple of other angles and views that were very imaginative before I made my mind up!
I think the work speaks for itself. And as a 76-year-old man, it was great to realize some people share my passion, even if they're a fraction of my age and halfway across the world!
I'd encourage any enthusiast looking to portray their car to just contact Ruben with some questions – just get talking and share the passion for cars.
The artworks are crafted using a collection of alcoholic based markers, in combination with colored pencils, fineliners and gel pens to render your car's paint job and details as true-to-life as possible.
RUNOFF ORIGINALS ARTWORK OPTIONS
That captures your car in the best way possible, crafted with markers and pencils on paper
CERTIFICATE OF AUTHENTICITY
Proves that your artwork is an authentic one-off Original.
SHIPPED FLAT IN A PROTECTIVE BOX
Made from sturdy cardboard, so your artwork safely arrives at your home
DISCOVER THE PREMIUM EXPERIENCE TO GIVE YOUR ARTWORK A WORTHY DISPLAY:
Hand framed by a local craftsman with UV protective glass so your artwork is sure to stand the test of time.
The complete process of creating your artwork, documented step by step in a physically printed booklet.
ARTWORK CREATION RESOURCES FOLDER
A bundled collection of the physical sketches, notes, references photos and color studies we used during the creation process of your artwork.
PACKAGED IN THE ORIGINALS CRATE
Hand built with strong wood, secure latches and a foam inlay so your framed artwork will stay safe in transport to you – wherever you are in the world.
DISCOVER THE FULL ORIGINAL EXPERIENCE TO CELEBRATE YOUR CAR IN A COMPLETELY DIFFERENT WAY:
SELECTION OF ADDITIONAL MINI ARTWORKS
3 additional mini artworks, handmade with markers and pencils on paper to form the fundament of the mini print designs listed below.
MINI PRINT DESIGNS BASED ON THE MINI ARTWORKS
3 one-off mini print designs that highlight how your car and personal story resonate with the rest of car culture
SET OF CUSTOM-MADE COLLECTOR'S CARDS
3 uniquely designed, one-off cards to highlight your favorite details of your car.
Highlighting each additional artwork and design created as part of the 'Full Original Experience', with the context and background that inspired them. Custom design to match the unique art direction of your project.
PACKAGED IN THE ORIGINALS CRATE
Hand built crate that keeps your framed artwork safe in travel and stores all additional artworks, designs and booklets to go with your main artwork.
A piece of art looks best when framed; we work with a Dutch framer – a master in his craft – to give your artwork a worthy display. So, when it finally makes its way to you, it can grace your walls with no stress!
Runoff Studio consists of two creatives who are equally passionate about cars; Ruben, the artist and founder, and Melo, the storyteller and creative director.
It's personal, customized, and the only one in existence - the entire experience was great!
Michael from the United States
About the artwork of his father's BMW M5
There hasn't been any obstacle for me to order a commissioned artwork from Ruben – I have bought 5 drawings! This BMW M5 artwork is one of them, that I commissioned as a unique gift for my father.
The level of detail in the artwork is amazing! It's personal, customized, and the only one in existence. The entire experience was great! Communication was clear, and the progress pictures helped. Very professional.
WILL MY ARTWORK TURN OUT EXACTLY THE WAY I LIKE IT?
We guarantee that the artwork of your car will turn out just right for you, because we really get to know you and your car. We meet with you in a face-to-face video call to help us understand what you're looking for. After that, we co-create initial composition sketches with you to get a crystal clear picture of what your artwork will look like before we put a stroke to paper.
Once we've agreed on the perfect way to capture your car, we're keeping you informed throughout the creative process. We're taking you along every step of our creative process, that is designed to craft an artwork that suits you personally.
If the final artwork doesn't meet your expectations, you'll get a 50% refund.
WHAT YOU'LL GET FROM A COMMISSIONED ARTWORK OF YOUR CAR:
The attention to detail in making the artwork life-like is so great that I ordered a second one
Joe from the United States
About the artwork of his Dodge Viper
Though I was a little skeptical about investing on an artist I only knew through Instagram at first, I felt my passion for cars was shared by the Runoff Studio team.
The end result was better than what I had expected. I've shared the final version of the artwork, and the different stages of completion on my social media page all have received rave reviews!
Frankly, the attention to detail in making the artwork life-like is so great that I ordered a second one.
I think there is talent far beyond Ruben's age. He just needs to get more and more exposure for his work, but I'm sure any Cars and Coffee attendee would love to own a Runoff Original as well. Car folk are passionate and love to show off their babies, and they could really use quality work like this!
FREQUENTLY ASKED QUESTIONS
CHOOSE YOUR WAY TO CAPTURE YOUR CAR